"An enchanting new world of magic and danger.
Perfect for fans of Harry Potter and Keeper of the Lost Cities!"
River of Crows
"Will effortlessly hook readers and keep them eagerly turning the pages until the very end. A smart, funny, exciting fantasy novel for younger readers who love all things magical." —Kirkus Reviews
"An incredible adventure…River of Crows is full of surprises with themes of friendship, family, self-discovery, and magic."
—Readers' Favorite
"Will delight middle grade readers (and older)…riveting and hard to put down." —Midwest Book Review
A cryptic prophecy. A dangerous quest. An explosive family secret. And a crow with a white feather who is more than he appears…
Mortal peril is twelve-year-old Ty Baxter's new normal when he teams up with the weird girl from school to help an injured bird and suddenly finds himself trapped in a strange, magical world.
Now the target of a brutal tyrant with unfathomable power, Ty grapples with a life-altering revelation about his past and the implications of an ancient prophecy. As he struggles to control his own emerging magical Talent, Ty embroils himself in a desperate gamble to help his new friends save their missing family before the emperor uses his dark sorcery to transform them into birds, enslaving them forever as soldiers in his enchanted avian army.
And if he survives all of that, he's probably still going to get grounded—if he ever finds a way to get back home.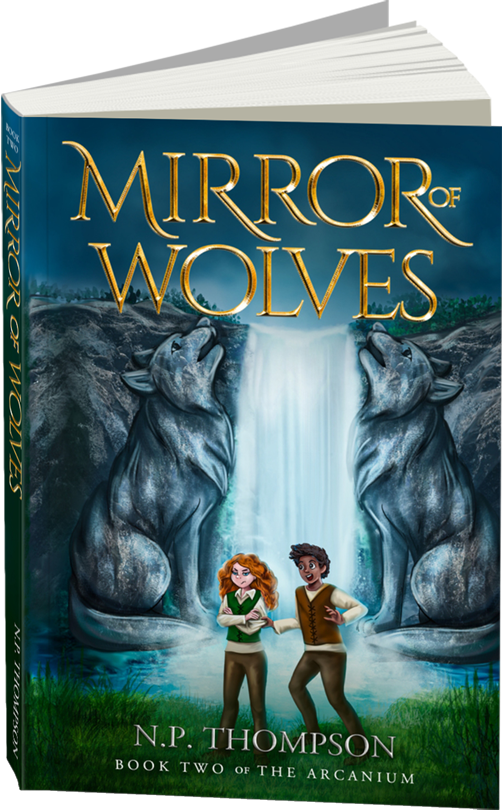 Mirror of Wolves
"The world-building continues to be stunning…Mirror of Wolves is an epic adventure that will keep readers entertained with humor, friendship, monsters, and magic." —Readers' Favorite
"Vivid in its imagination, well-developed in its characters, and filled with satisfyingly complex twists and turns." —MBR Children's Bookwatch
Two children touched by prophecy. A dark sorcerer out for revenge. And a mystical artifact that might have all the answers–if it exists at all.
Plagued by nightmares after his encounter with the evil Emperor Blackthorn and tormented by the revelations about his mother's death, Ty has become obsessed with his magical training. When he learns of a mystical object with the power to show him whether he really is the one destined to end the dark sorcerer's reign, he is determined to track it down—no matter the cost.
But when his quest takes a shocking turn, will Ty still find the answers he needs, or will his relentless hunt for the truth only jeopardize both the worlds—and all of his friends?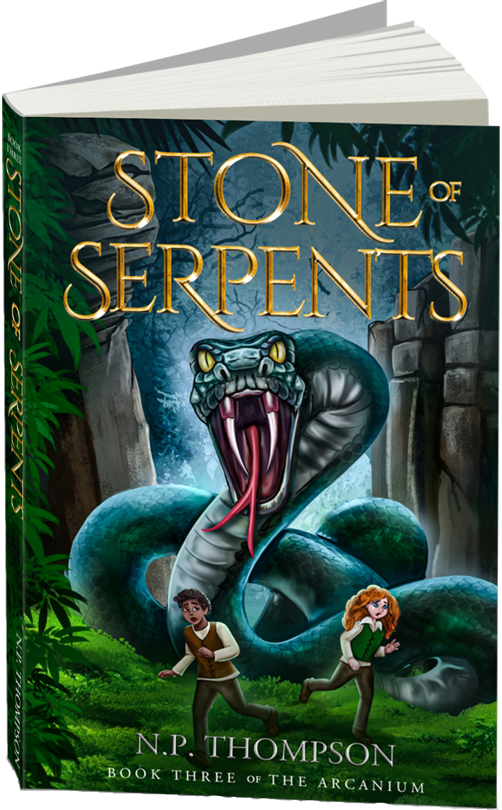 Stone of Serpents
Certain he knows the whereabouts of the weapon coveted by the tyrant emperor, Gideon Blackthorn, Ty returns to Ordanna in a desperate gamble to save both his best friend and the two worlds. Emboldened by the vision given to him by the Soul Glass, Ty is determined to finally put an end to Gideon's reign of terror. But when everything starts to go wrong, will the people he cares about most be the ones to pay the price?
Sign up for my newsletter and get a
FREE pack of printable character cards.

One for each member of Team Arcania,

plus 3 surprise bonus cards!